Top 3 Must-Have Kayak Fishing Accessories For Beginners
We all know that kayak fishing has been a fast growing sport over the last decade with no signs of slowing down anytime soon. Consumers have quickly caught the, "bug" of fishing off a kayak, therefore creating new companies and products to help cater to the non-stop growth in sales and popularity.
To the experienced kayak angler, making decisions on whether a certain product is easier to handle for them, as opposed to the, "newbie," that is loaded with questions. Like any other sport, this can be very overwhelming for a consumer in the beginning.
With that being said, we have many people that call us daily with numerous questions about accessories. Many of these customers have just discovered kayak fishing and others are newly considering it. We have heard many of these inquiries, and decided to break it down to the top 3 items of what WE believe are, "must-have" accessories to Kayak fish in Florida.
We hope to assume that you all have your required safety gear- PFD, whistle, 360 light for low light situations, etc. For the sake of this write up, we will focus solely on accessories…
Anchor Trolley
Your anchoring position is made up of an anchor, anchor line and your kayak. Essentially, an anchor trolley becomes an extension of your anchor line by creating an adaptable attachment point to your boat. An effective anchor trolley acts as an adjustable anchor cleat, thus allowing you to change the angle of your kayak based on alternating wind conditions and/or tide movement. Advanced kayak anglers even use anchor trolleys on each side of their kayak to provide versatility in choosing an anchored position. After all, the potential for versatility is only as strong as the number of anchoring options you give yourself when rigging!
For this, we highly recommend the YakGear Deluxe Anchor Trolley Kit.
      2.  Anchor/Stakeout Pole
Choosing which one depends on depth as well as bottom type, (soft, muddy, sandy, rocky, etc.) There are also several types of anchors to choose from. Claw anchors, mushroom and river anchors.
Claw anchors-  Being the shape of an open claw, the design intent was to allow the anchor to tip in any direction when it reaches the bottom and still be able to set properly.
Mushroom anchors– A mushroom anchor is a specific type that is usually used in areas of water that have a fine sand seabed. As the name suggests, a mushroom anchor is formed in the shape of a mushroom — a design that allows the head to become buried in the sand or silt; and hence, anchor the vessel.
River Anchor- River anchors are very heavy anchors that work very well in heavy current.  Once they are let out they will hold the boat tight.  Their design is made to catch on hard bottoms and will also work very well in mud or weeds.  The downfall to this style of anchor is they tend to be very heavy, hence making them difficult to retrieve. These are not suggested for kayak fishing anyways, since anchoring in deep, fast moving water can be dangerous.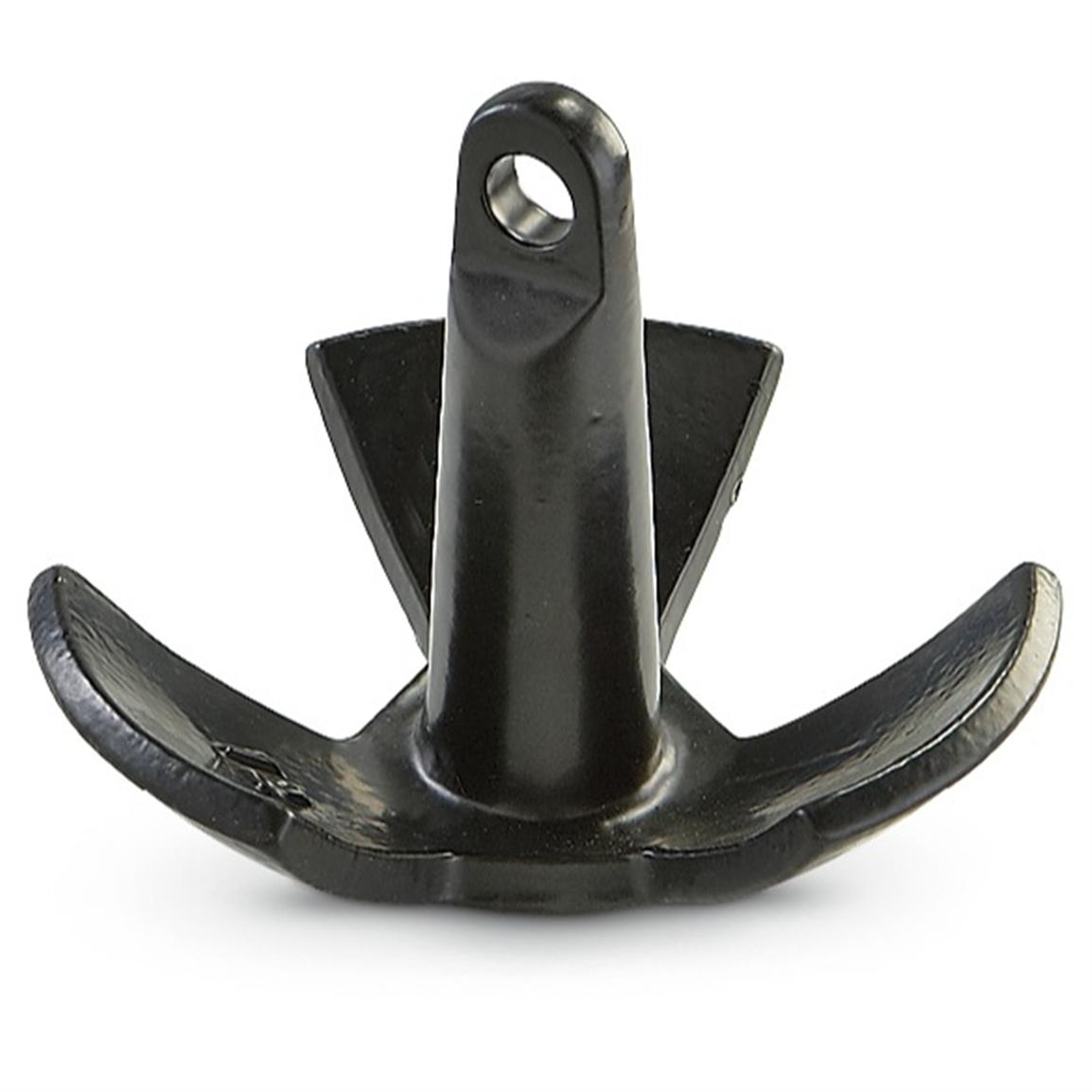 Stakeout Pole- Stake out poles were designed to easily deploy by sticking the pointed end in the mud or soft ground.  Mud sticks are becoming the preferred method of anchoring in shallow coastal waters.  Featuring a "T-Handle" that fits the paddler's hand, the YakStick is easily utilized by sticking the pointed end into the mud. The T-handle also allows the Yak Stick to be turned over and used as a push pole.  By making it solid rather than hollow, the YakStick will be easier to manipulate on hard bottoms, or even through oyster shell or gravel. YakStick anchors come with 2 mini pole clips and stainless steel hardware for mounting your stick anchor to the kayak while not in use.  YakSticks come in gray or white.  Please choose accordingly.
   3. Kayak Crate
Milk crates provide interior storage area on the deck of the kayak, canoe, or paddle board. It is a simple solution in our sport that's plagued by a lack of, "storage" space. The implementation of milk crates for sale also prevents kayak anglers from being forced to steal beverage distribution crates from stores, or shell out major cash on an over glorified gear and tackle storage system. Most crates on the market boast a honeycomb design to allow customization with accessories.
centralflorida, fishing, fishingreports, kayak charter, kayak sales, kayak tours, kayakfish, outfitter, paddle, pascocounty, rigging, tampabay